jeudi 15 avril 2004
Dec 2003 - April 2004. Installation.
Installation as a Suite/room at the Icehotel, in Sweden.
Room of 8m x 4,5m x 4,5m.
3 tonnes of ice, frozen liquid emulsion photo prints, lot of m3 of snow, LED lights.

Video:
See Video Sample, Short Extract from The film Icehotel made by Discovery Channel, 2004.


View panoramic of the Suite 301. multiple images panoramic. view from entrance.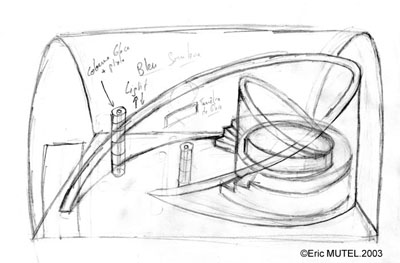 Sketches view of the planned Installation, before change during realisation.




View from the bed side, end of room.



View of the back room lying pictures.



Sketches view of the planned installation, before change during realisation